TPI Wire Harness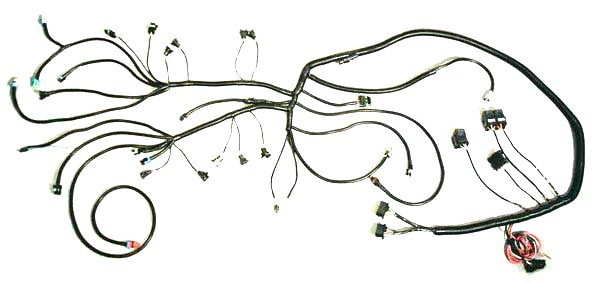 1991 Y-Body design fits the Corvette engine and can also be made to operate the F-Body engines. The computers from this era have someting called VATS (Vehicle Anti-Theft System) this is removed on all Speed Scene Wiring harness through a computer process.
The layout is uniform on all Stand Alone harnesses built from scratch. Complete with all relays, locks and much more.
We also take custom orders, if you have a specific harness layout that you would like; we can tailor fit to your measurements.
For special requests Contact SSW
TPI 1990-1991 Speed Density Tuned Port Injection systems of this year are dubbed with the name Speed Density. The transmission choices are 4L60 (No E, Vette) 700R4 (F-body) 6speed (Vette) 5 Speed (F-body) The distributor of this year was a small EI (Energy Ignition) system that sported an external coil. The meaning of the name Speed Density is composed of the simple truth. The metering air capabilities are based on speed from the EI distributor being RPM, temperature of the incoming air and temperature of the coolant. The IAT is left to modify mixture values. Along with a good base idle, the Idle Air control Valve (IACV) supplies a controlled vacuum leak, allowing the engine to idle smooth. In the older 1985-89 TPI computer, the fuel injection system could measure the mass amount of air coming in the engine as well as the temperature of the air. The speed density system is a solid performer, if left stock, a great performer in water / wet off road application simply because there is no Mass Air Flow sensor to short out.
ALL EPA APPROVED WIRE HARNESSES COME WITH:
VSS Circuit
Diagnostic Link Connector
Correct Connector for Emissions Components
VSS Pigtail
Alternator
Tach Pigtail